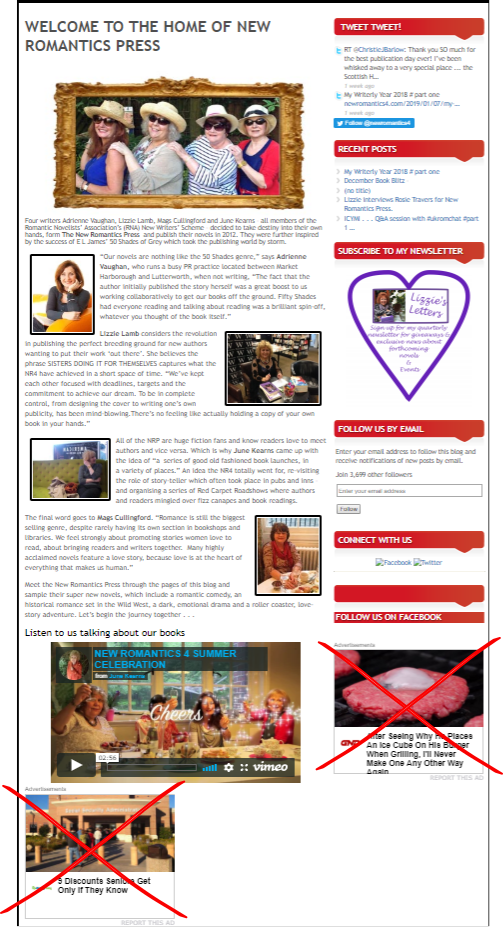 I was asked by one of my author clients recently if it was possible to get rid of the adverts on a WordPress.com website. You know the sort of thing – random ads appearing on your pages and in your sidebar. Sometimes these ads even appear in the middle of one of your pages between paragraphs. Well, you can now get rid of those ads, but it will cost you, of course.
WordPress.com is essentially the free version of WordPress.org which is the all singing all dancing website creation software. I am assuming that as you are reading this blog then you already know about WordPress.com and WordPress.org, so I will just concentrate on the question of adverts.
If you want to prevent adverts showing up on your WordPress.com website then you can subscribe to one of three paid plans. The one you choose will depend on what you use your website for and how much you want to spend. You can start with spending as little as £4 per month for a personal plan which will remove all the ads.  You will also get support either by email or chat if you run into difficulties and will have double the amount of space that the free version will give you.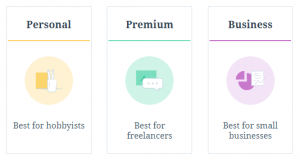 The Premium and Business plans offer other benefits and you can compare all three plans and upgrade here:
https://wordpress.com/pricing/
It is simple to upgrade to a paid plan. Just click on the plan which best suits you and follow the instructions to link your existing website to your plan. So you don't need to be frustrated any more by adverts appearing all over your carefully designed pages.
My thanks to the talented romance authors at New Romantics Press for allowing me to use their home page as an example.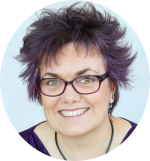 Book Coach and Publisher, Sarah Houldcroft is the founder of Goldcrest Books.  With her team she works with business experts, speakers and fiction writers to create the book they've always dreamed of.
She also coaches entrepreneurs who need help to develop their ideas so they can see their business book come alive in print. Her workshops and signature course, Blank Page to Paperback, have been very well received and inspire women to get writing and become published authors.
Sarah enjoys speaking at writers' days and events to empower women in business and has become known as an inspirational speaker on a variety of topics including her own inspiring story of conquering chronic pain.
https://www.goldcrestbooks.com/wp-content/uploads/2018/01/GC-logo-trans-background-sml.png
0
0
Sarah Houldcroft
https://www.goldcrestbooks.com/wp-content/uploads/2018/01/GC-logo-trans-background-sml.png
Sarah Houldcroft
2019-01-25 11:16:07
2019-01-21 11:52:39
Can I get rid of adverts on my Wordpress.com website?