Have you written a novel based near your home town? If you have then you could take advantage of the local media and magazines, just like our author Adam Longden has with his debut novel Caterpillar Girl.
Here he talks to Keya Modessa of Pukaar Magazine about how he came to write his debut novel.
A love letter to the East Midlands – Pukaar Magazine
Adam Longden talks to Pukaar Magazine's Keya Modessa about his love for his hometown – the setting which inspired his first novel, The Caterpillar Girl and his journey to becoming a published author.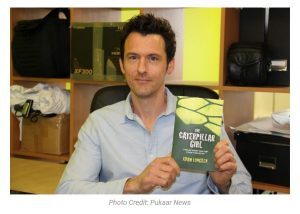 Imagine an idyllic setting like the one from Laurie Lee's Cider with Rosie combined with the dark side of a Stephen King novel, and you're getting close to something resembling Adam Longden's debut fictional piece of work.

Pukaar Magazine is a quarterly publication offering readers a mix of local human interest and serious community news as well as features on fashion, travel, sport and entertainment. Covering a range of diverse topics, the magazine is a true reflection of the multicultural city of Leicester.